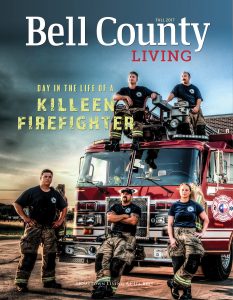 Current Edition – Fall 2017
Bell County Living Magazine is published quarterly and distributed throughout Belton, Temple, Harker Heights, Salado and Killeen. We produce each edition with exceptional quality and content to become long-lasting, coffee table-quality magazines.
The magazine is printed on high quality thick paper stock to give it a better feel and increased thickness. The spine of each publication is perfect-bound to resemble a book, and to hold together for many years to come. The covers are UV tinted to withstand exposure and maintain a quality our readers have come to expect.
Editions of each publication are proudly displayed throughout businesses, professional waiting rooms and state legislative offices around the area. Being area-specific, the content within the pages of each publication is sure not to become dated or out of style. Residents have stated that each edition is a legacy, holding information about its people and events that one can reflect on and show for years to come.
We would like to say Thank You for all those who've made Bell County Living possible. We look forward to bringing you many more editions for years to come. Please let us know if you have any article suggestions, or have an event you'd like featured in the pages.
Featured Articles
---
Day in the life of a Killeen Firefighter
"I was actually teaching sports in the San Francisco area and one of my clients was a fire fighter and he said 'you know what, you need to be a firefighter,'" Sontian said. "Which caught me by surprise and had no real clue what he was talking about. He started telling me about the fire department and how it all works. It has always been in the back of my mind and been an interest from then."
Because of the difficulty of becoming a firefighter in the Bay area, Sontian put the idea on the back burner and moved to Japan to teach English. When he got back to the United States, he ran across an online advertisement for the Killeen fire department, did some research, and went for it. Although Sontian moved from South Africa to California 11 years ago, it was by chance that the pastor at the church his parents go to knew a family in Killeen that Sontian was able to stay with. Now, since Sontian's sister also lives in Texas, his parents are in the process of moving as well.
---
The Wheels Turn for Salado's LoneStar eBikes
You're never too old for glow sticks and adventures that stretch deep into the night. The owners at LoneStar eBikes understand and embrace this.
When you arrive at the Salado shop for your Friday Night Lights tour, you're shown piles of glow sticks and other light-up jewelry to adorn your helmet and self with. Your eBike is already blinged out and ready for a test spin.
Most riders can't help but shout with gleeful surprise when they pedal an eBike for the first time. This unbridled, initial reaction is one of the best parts of guiding tours, according to owners and staff members Mary Ford, Jay Ford, Nancy Martinez and Dan Martinez.
"It's just like you're ten years old again," Mary says.
An eBike is a bicycle with an electric motor, Mary explains. The motor provides an assist that you feel on the first stroke of the pedal. Some bikes have throttles as well for extra push.
"The battery comes right out," Mary says. "You can take it inside your house and plug it in, or take it inside a coffee shop, plug it in for an hour and then go another eighty percent on the battery."
You can also turn off the pedal assist altogether and ride it like a traditional bike. Some bikes have four levels of pedal assist while others have six. There are commuter or urban eBikes, mountain eBikes and even fat tire eBikes.
---
Spreading Kindness One Rock at a Time
Kayla Bostick reacted like most to discovering the Kindness Rocks project while traveling on the West Coast. She decided to introduce the phenomenon to her hometown Belton, but never imagined it would be the hit it has turned into.
"I fell in love with the idea of a community painting and hiding rocks," Bostick said. "I told my family, 'this is crazy, but we should start a group here.' I started the Facebook page and we painted some rocks. One was found, but then nothing happened."
A year went by, and then Bostick returned back home from college. She told her friends and family that she knew it sounded absurd, but she wanted to paint rocks again. They kept painting and hiding, and suddenly, the concept went viral locally. In May and June of this year, the Belton Rocks Facebook group went from 12 members to about 5,000 in two weeks and continues to grow. They surpassed 9,000 members in September. Bostick said she never expected the trend to catch on this much.
"I figured it'd be something really neat for our community," she said. "But I didn't expect it to grow to 9,000 people who also thought the idea was really cool. I think it did take to Belton really well because our community is so open, receptive and loving already. I grew up here and it's always been a positive place to be, so when a positive idea came, it was a hit."
---
Scottish Gathering and Highland Games
The lively sound of bagpipes carries out through a cool, November afternoon as a group of traditionally dressed Scotsman and their clans walk with banners held high down Main Street in Salado, TX. The colorful parade is just one of the many events that make up the 56th annual Salado Scottish Gathering & Highland Games.
The event, which is sponsored and organized by the Salado Museum & College Park, is one of the biggest events of the year. Not only is it a chance for Scottish clans from all over the US to get together and share food, family and fun, but it also gives the participants the chance to celebrate their heritage.
This heritage runs deep in the Central Texas area. Major Sterling C. Robertson acquired land grants from Mexico in 1825 to bring 600 families to the area. Most of these families were of Scottish descent. These groups and their relatives met informally for years to celebrate their traditions and their new home in Texas.
And then in 1961, Mrs. Sterling Robertson, a descendant of the Major, created a program to recognize the diversity of the area. To complete her vision she planned the first gathering of the Scottish clans, and dozens of groups answered the call.
"She had 40 clans that first year, and we've pretty much had 40 clans ever since," said Liz Patranella, Salado Museum Marketing Director.