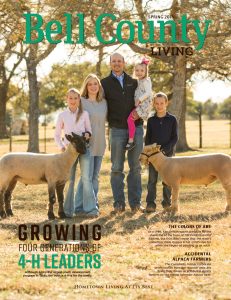 Current Edition – Spring 2018
Bell County Living Magazine is published quarterly and distributed throughout Belton, Temple, Harker Heights, Salado and Killeen. We produce each edition with exceptional quality and content to become long-lasting, coffee table-quality magazines.
The magazine is printed on high quality thick paper stock to give it a better feel and increased thickness. The spine of each publication is perfect-bound to resemble a book, and to hold together for many years to come. The covers are UV tinted to withstand exposure and maintain a quality our readers have come to expect.
Editions of each publication are proudly displayed throughout businesses, professional waiting rooms and state legislative offices around the area. Being area-specific, the content within the pages of each publication is sure not to become dated or out of style. Residents have stated that each edition is a legacy, holding information about its people and events that one can reflect on and show for years to come.
We would like to say Thank You for all those who've made Bell County Living possible. We look forward to bringing you many more editions for years to come. Please let us know if you have any article suggestions, or have an event you'd like featured in the pages.
Featured Articles
---
Growing Four Generations of 4-H Leaders
Although 4-H is the largest youth development program in Texas, the truth is 4-H is for the family. According to Sheryl Long, Bell County Extension Agent, they are currently supporting sixteen 4-H Community Clubs and Project Clubs with over 600 youth members.
"We really encourage family involvement. 4-H clubs offer programs in horsemanship, shooting sports, food science, healthy living, robotics, fashion, photography, livestock, and more," Sheryl explained. This program would not be possible without the help of over 200 adult volunteers that serve as Club Managers and Project Leaders."
Cade and Emily Morris are taking their children into the fourth generation growing leaders for the future. The family, including eleven-year-old Macy, eight-year-old Carter, and even four-year-old Maren, participates in the Salado 4-H club in Salado. Cade is a rancher and Emily is a stay-at-home mom.
---
Day Camp Programming – The Henderson Way
Robert Henderson, or Peanut as his friends call him, grew up on a Navajo Indian Reservation hiking, exploring and finding his passion for the outdoors, kids and the silence of nature. "I was born in Utah," Peanut explained as he rushed between his various duties as Recreation Specialist and Camp Director.
"My parents were teachers on the reservation. It's there, sitting on a high vista that my love for the outdoors grew in nature's silence. My love for helping kids began in campus ministry. Once, when I served as chair of a Christian conference, one of our Bishops spoke the words over me, saying I would become a youth minister."
What that Bishop didn't say was that Peanut Henderson would not only become a youth minister, but he would become the king of camp directors, a basketball coach, mentor to hundreds, and part of the hit TV show "Bug Juice" all at the same time.
---
The Barton House: A Colorful Piece of Salado History
Life was remarkably different in 1866! Andrew Johnson, a Democrat from Tennessee, served as President, and our country was in a period of Reconstruction. Jesse James and his gang allegedly committed what was considered to be their first robbery in Liberty, Missouri.  Henry Bergh founded the American Society for the Prevention of Cruelty to Animals (ASPCA) in New York City, and Congress approved the minting of the nickel.
1866 was also the year that Dr. Welborn Barton, a physician who received a degree from Kentucky's Transylvania University, built The Barton House. Dr. Barton, originally from South Carolina, served in the Confederate Army as a surgeon and practiced medicine in Bastrop County for two years before returning to South Carolina to marry Louisa Adeline Cox. In 1854, Dr. Welborn and Louisa Barton moved to Burnet County with other South Carolinians and then settled in Salado in 1865.
---
Cleaning for a Reason—Lightening the Load
Cancer attacks not only the patient, but also the entire family. It takes a terrible toll physically, emotionally, and financially. Friends may want to help but don't know what to do. Cleaning for a Reason steps in and lightens the load.
"I never had a maid service until I became ill and had radical surgery for cancer. My son got in touch with Cleaning for a Reason. He gave me a month of cleaning for Mother's Day. I had to wait for service because the Austin area was so busy. Then one day, the Belton office got in touch with me and got started right away. They came in and made everything shine! The maids are always cheerful and ask how I am doing. They do such a thorough job, and they are so flexible when I need to reschedule. It makes the healing process so much easier when you can use your energy for actual healing instead of depleting your energy on house cleaning. I'm so glad to have this service!" said Regina Adams.