By Karen Oakly with Elite Therapy Center
Photos by Jenny Lloyd Photography and provided by Elite Therapy Center
Webster's Dictionary defines the word journey as both a noun and verb. (Noun)  The act of traveling from one place to another; a trip. (Verb) To travel over or through.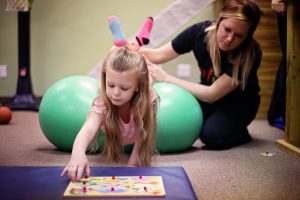 Kari McKown, Heather Field and Lauri Cole, co-owners and directors of Elite Therapy Center, were each called over a decade ago to serve children and families through physical, occupational and speech therapies. Co-owner and occupational therapist, Kari McKown, MOT, OTR, and speech pathologists, Lauri Cole, M.S., CCC-SLP, and Heather Field, M.S., CCC-SLP, have a long history of treating children with disabilities, intellectual challenges and behavioral disorders. Together as professionals and friends, they decided it was time to take a stand in front, behind, and alongside families who needed healing. These three servant-leaders created Elite Therapy Center, founded on the principle of helping families on a journey of hope and healing. Today they strive to serve the ever-growing need for pediatric therapy services in Central Texas.
Every family's journey looks different. Kari, Heather, and Lauri work with physicians and patient's caregivers to discover what type of journey they are on and how to best provide a therapy plan to navigate with strength, hope, support, and success.
Children who have disabilities, intellectual challenges, or behavioral issues travel a rigorous path requiring constant dedication, physical, and financial support. Children served at Elite Therapy Center often face challenges in everyday living, who many aren't aware, take concentrated effort. Tasks such as getting in and out of a wheelchair and vehicle, everyday hygiene, attending school, speaking and listening, and functioning in social settings can be regular areas of challenge for some children, teens, and young adults. The Elite Therapy Center team serves to build relationships and bridge opportunities to afford the best quality care.
Kari McKown shared, "As owners, our friendship has spanned a decade built upon a passion for watching children with special needs succeed beyond what others thought possible. During the journey of founding Elite Therapy Center, I have also made lasting relationships with many patients who I have treated from birth through teenage years. One of my greatest joys is watching these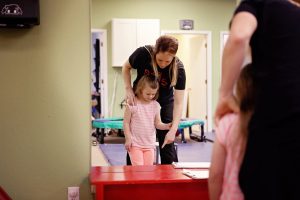 kids participate in extracurricular activities like sports and school organizations and succeed despite their limitations." Kari, Heather, and Lauri lead a team of over 60 therapists and administrative staff in an adventure-filled journey caring for patients from diagnosis to discharge.
The leaders on this journey are also the servants. From top to bottom, families will see these women leaders lead by example through genuine acts of service. The journey of hope involves management, insurance specialists, administration, physicians and therapists all working cohesively in their areas of expertise but also unconditionally lending a hand to meet the unique needs of their patients. When walking through Elite Therapy Centers, families will hear laughter, determination, challenges and triumphs in the hallways as therapists treat patients and visit with the parents about their progress. Hope exists in every corner and healing stems from the relationships planted in the beginning and becoming deeply rooted over time. Heather Field says, "Relationships matter with everyone, but it's not only a 'simple connection' we work for. We strive for a quality bond along the entire journey."
Who does their expertise influence? The impact of serving so many families and treating the myriad of conditions and disabilities is sculpted by dedicated effort, encouraging influence, and skilled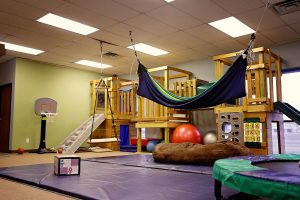 expertise. Angela Miller is Grandmother and caregiver to Isabella, who is treated for all three disciplines at Elite Therapy Center in Temple, Texas. She shared, "On our journey, we see Bella's life being furthered and expanded and she isn't limited to a narrow path because of her syndrome. She is going to be able to go where she wants to go. Everything is a possibility with her!" Lauri Cole added, "Seeing these children reach their full potential is such a blessing and something we strive for everyday."
Every family, every patient, every therapist, physician or admin specialist is on a journey. Whether people are walking as parents, grandparents, or caretakers with children who have special needs or simply need more; we are called to serve them. We are given hope on our journey and live out the healing results. Elite Therapy Center is established to uphold a reputation of clinical excellence with a personal touch for every family we can. Kari McKown shares, "Working with these families and kids inspires me and gives me strength because theirs is contagious!"