By: T.C. McKeown
Photos taken by Randy Yandell with UMHB
Nineteen years after starting the football program at the University of Mary Hardin-Baylor, Coach Pete Fredenburg and the 2016 Crusader team have finally come home with a national championship trophy.
"Having the opportunity to build the program presents you with the opportunity to build the foundation," Coach Fredenburg said.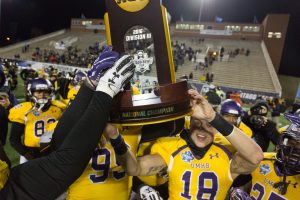 "When I took the job at UMHB, it allowed me the opportunity to really quantify everything that I really believed in and the things that I think are important to building a program."
And the one thing that Coach Fredenburg says he kept coming back to were the deep-seated relationships that football can foster.
"You can't hardly see it, you can't touch it but the chemistry that exists on a team — that's the formula we used to build our program. We recruited guys that really have a passion for the game and really have the characteristics of guys that you like to be around and that you enjoy coaching."
So, on a cold December night in Salem, Virginia, a close-knit team of passionate Crusaders stormed the 44th Stagg Bowl to win the national championship with a 10-7 victory over Wisconsin-Oshkosh.
"The reality is that we stayed true to our beliefs, and then to have that materialize in a national championship is truly one of the most rewarding things," Coach Fredenburg said.
The game itself was incredibly defense-heavy, and although neither team scored in the second half, it was a nail-biter for many fans.
"I was glued to the TV," said Stuart Platt, a 2008 alumni who was watching the game at his house with his family. "Sharing this victory with my 3-year-old son as we danced around the living room was priceless."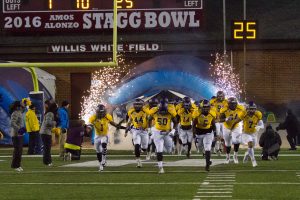 Perhaps what made this win most meaningful is just how many times the CRU (as fans affectionately refer to the team) have flirted with clinching the national championship title. In the football program's nearly 20-year history, the Crusaders have advanced to the playoffs a total of 15 times, and they've played another time at the Stagg Bowl (the national championship game for Division III football).
"Again, that's what makes it so special is that I was watching, as a freshman, the last time we went to the Stagg Bowl. I remember I drove thirty minutes to go watch it at a friend's house who had [the game] on cable," Platt said. "Losing that game was heartbreaking, but I always knew we would make it back."
Jon Wallin, Sports Information Director for the university, has been on board nearly since the inception of the football program.
"I wasn't here the first year we had a football team, but what impressed me so much is how quickly everything fell into place. Coach Fredenburg hit the ground running – I mean they didn't even have a field house or proper uniforms, but he went out and he recruited players," Wallin said. "It's been incredible to see the evolution, and it's been incredible to witness how our program has become successful and maintain consistency with that success."
In addition to winning the national championship, the UMHB Crusaders also shattered both school records and American Southwest Conference records by closing out the season with a perfect season: 15 wins and zero losses. In fact, in the past 4 seasons, the UMHB football team has only ever lost four games. That's mind-boggling, especially when you think of it from a player's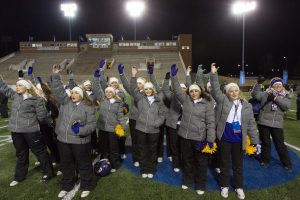 perspective: imagine if you were an athlete and had only ever experienced losing a game just a few times in your entire college football career.
"Man it all seems so surreal," said #28 senior linebacker Matt Cody, "but this wasn't done in one season and the UMHB [football] team of 2016 doesn't get all the credit. This all started in '98 with the original class — the guys who created the Code that we protect and to all the other men that came before us."
The code that Cody talks about is that the players strive to be unselfish, passionate, physical, relentless, and prepared.
"Of course it's amazing [to be on the national championship team] but what's better is being a part of something bigger and that is this family of brothers that last a lifetime," Cody said.
At the end of the year, Coach Fredenburg was awarded the American Football Coaches Association NCAA Division III National Coach of The Year.
"It's a wonderful honor but there are so many students that have come through this program and helped established the kind of tradition that allows us to set standards like winning a national championship and that's who shares in this honor," Coach Fredenburg said. "We believe that our program is more controlled by the players than the coaches. They have bought into what it takes to be a great program: the work ethic, the sacrifice, the dedication. They are the ones that monitor and set our expectations."
The student athletes additionally won a host of awards this year including quarterback, Blake Jackson, being named Most Outstanding Player following the Stagg Bowl; tight end Zane Boles winning the Elite 90 Award earlier in the season; and defensive back, Baylor Mullins, being named to American Southwest Conference Fall Distinguished Scholar-Athlete Teams.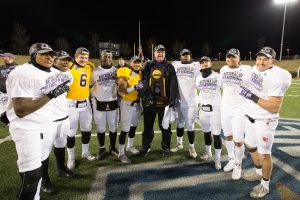 "Playing for UMHB is an honor. Not every kid gets the privilege to play here. So to put on this uniform, play in a stadium like we have, with the best fans ever cheering you on and being ranked #1 in the nation is something special. I've loved every minute of it," said #32 senior defensive back Baylor Mullins. "Playing for Coach Fredenburg has been amazing; he is a great coach, but an even better man."
In February, the university hosted a special celebration for the football team where visitors had the opportunity to meet the coaches and athletes, get autographs, and take photos.
"I got there about twenty minutes early and the lobby was already packed with people waiting for the doors to open — and about the time we were wrapping up, we still had probably fifty people in line wanting to get autographs and take pictures," Wallin said. "To see the way the community has rallied around this program to show their support is incredible."
As for the future of the football program, Coach Fredenburg says that his team is already gearing up for next year to win the national championship title again; and specifically, for future of Coach Fredenburg, he says: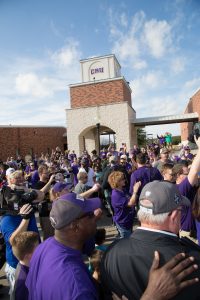 "It's been an incredible joy for me and my family to be a part of this program and Mary Hardin-Baylor and I plan on being here as long as it keeps on being fun. When it becomes just a job I guess I'll quit then."
But after this kind of season, it's hard to imagine that being anytime soon.