By Jessa McClure
Photos by Kay's Photography & Design and provided by Brooke Knight
The streetlights have been on for hours now as Killeen High School teacher and cheerleading coach, Brooke Knight, pulls into her driveway. Even though she's already spent several hours grading papers and helping her squad practice for an upcoming competition, she is already thinking about the next day and what she can do to better the lives of the young people she comes in contact with every day.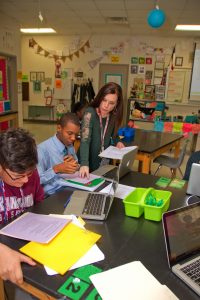 Knight's husband, Jason, who works as an Army Space Operations Officer on Fort Hood, says his wife sometimes works longer hours than he does.
"She's super passionate about what she does," he said. "It's an inspiration to me, honestly. She puts everything into what she does, and it definitely shows."
Jason calls his wife the hardest working person he knows, and said the Abilene native has always had a heart for people. Knight's love for helping her fellow man began as early as her high school years, when the two became a couple.
"She did student council and all of those things, and she volunteered with Meals on Wheels all through college," he said. "She's always been really into volunteering."
It was through these experiences that Knight was able to get out of her comfort zone and use her own experiences to help others.
After earning a Bachelor of Science in Biology from Abilene Christian University, Knight thought she would be headed to dental school. But, after some soul searching, she realized that this was not the path she wanted to go down.
"Everyone in my family is an educator," she said. "So, I feel like I pulled away from that because I wanted to do something different. But, at the end of college I made the decision to pursue education instead."
She admits that the transition to teaching wasn't a smooth one, but sometime during her first year in the classroom she realized this was where she was supposed to be and what she was supposed to be doing.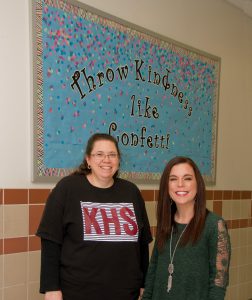 It wasn't long after her foray into the world of education that Knight's husband entered the military. He too had changed his mind about his career path, and needed to choose a different avenue to fulfill his life's passions.
Soon the couple was being notified that they would be moving to an Air Force base in Germany. Having never left her hometown of Abilene, Knight was nervous about starting a new life overseas. But as they prepared for their move, a close friend gave them a decorative wall hanging that said, "Bloom where you're planted."
Although it seemed like a small gesture, Knight found great comfort in its words, and used that as a motto for her life as a military spouse.
"That just really stuck with me," she said. "No matter where we go, it's fun to kind of make that place home as best we can."
She said instead of looking at moving to a new place every few years as a negative, Knight chooses to look at it as an adventure, and a chance to touch the lives of those in her community.
"I am always someone who likes to be involved in outreach," she said. "Once I know where we're moving, I start looking and digging into that place, and seeing what opportunities are available."
While the couple was stationed in Germany, Knight learned everything she could about her new military life. She took classes set up for new military spouses and used her knowledge to help other wives. Knight was so good at what she did that she even won a volunteering award for her efforts.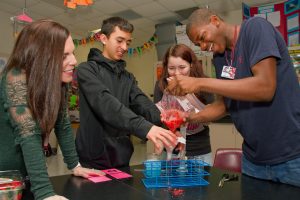 She continued her community work when the couple moved to Oklahoma four years later, and then to the Fort Hood area when they arrived here two years ago.
"As a cheer coach, I've had a lot of opportunities to do volunteer work," Knight said. "We'll do a lot of things for the community like making wreaths for veterans and participating in the Feast of Sharing with HEB. I really like being a part of those types of events, and plugging in where I can."
The high school teacher said her work in the community helped distract her during her husband's eight-month-long deployment.
"It's definitely not an easy thing. But if you just immerse yourself in the things that you do, the things that matter to you, then it is easier," she said.
Surrounding herself with supportive family and friends was also a great help during that time. Group events with other wives going through the same thing and taking advantage of available resources helped as well. And now that the couple is stationed back in Texas, they are only a few hours from their families in Abilene.
"I have been able to see them more often than when we were in Germany, so it makes deployment a lot easier," she said.
Going through the rigors of everyday life without her husband has not only allowed Knight to relate to other Army wives, but it has also helped her relate to her students.
"I totally get what they're going through. I've had to go through the same things," she said. "Even if I don't understand their situation fully, there's just that common bond that other people just don't understand."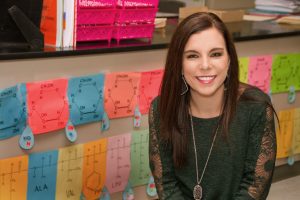 Knight's husband said his wife is one of the best teachers and coaches he's ever met, and she really cares about the success of each of one of her students. Her enthusiasm for encouraging the next generation is evident on the school's website.
"My goal for this year is to help you stretch and grow as thinkers and learners, and to be come true scientists," her class profile says. "I want you to leave my class at the end of the year with the tools you need to continue your successful journey and be active members of your community."
Not only does the science teacher want to inspire her students to step out of their comfort zones, but she also wants to encourage military wives to do the same.
"Just get involved. Be a part of things even if you feel nervous or hesitant about putting yourself out there," she said. "It's at those events that you find the wives who have been there before. They can provide that shoulder you need, the advice you need, and the uplifting you need to make it through."
Jason Knight said his wife has not only helped other women get through tough deployments, but has also helped him stay strong during the ups and downs of life in the military.
"She's really supported me through my whole career," he said. "She's really been the strength behind me."