By T.C. McKeown
Ah, spring break. The crowds. The traffic. The expenses. The chaos and the craziness.
Isn't it sometimes easier to just stick around town and have yourself a nice little "staycation"? — But, by all means, please don't stay indoors when there's so many neat places to explore around beautiful Bell County!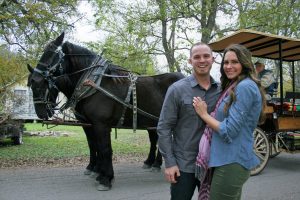 Don't know where to begin? Let's start with a tried-and-true spring break classic: the lake.
Bell County boasts two beautiful lakes, Stillhouse Hollow Lake and Lake Belton, each area complete with camping grounds, marinas, boat rentals, fishing spots, and much more.
Now, when it comes to lakes, I'm a marina man myself as I used to work on one, and even still to this day, I love the feeling of stepping out on those weathered, wobbly floating decks. Bell County has three main marinas: Frank's Marina on Lake Belton, Stillhouse Hollow Lake Marina, and Morgan's Point Resort Marina (also on Lake Belton).
Frank's Marina is just inside Belton Lakeview Park off of Lake Road. The park is fantastic for camping and has incredible amenities, such as picnic shelters, trails, a playground, waterfront sites, volleyball courts, and restrooms. The park is managed by the U.S. Army Corps of Engineers, who additionally are responsible for both dams and lakes in Bell County. In fact, Frank's Marina dates all the way back to when the Corps of Engineers started crafting the iconic look that Belton is famous for today. In the early 1950s, Frank Smith sold hot dogs and ice-cold drinks to the engineers as they worked on the dam and the lake; this business venture eventually landed him with two businesses: one, a marina; the other, a restaurant. The marina still holds Frank's name, but the restaurant is better known now as Dead Fish Grill, home to one of the most spectacular sunsets in all of Central Texas.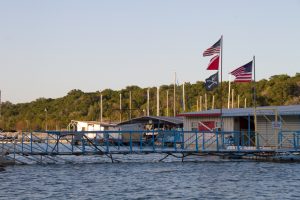 Morgan's Point Resort Marina is owned by the quaint city of the same name. In 1997, the marina was destroyed by a tornado, but a year later they reopened and have been in business ever since. Both Frank's and Morgan's Point Resort Marinas sell gas and snacks.
Last but not least, Stillhouse Hollow Marina is a little bit farther out of the way, but it's a hub for fishing enthusiasts, divers, kayakers, canoers, and paddle boaters.
Both lakes hold their own breathtaking views, and each has a variety of entrances. This is not necessarily an exhaustive list, but here are some access points to the lakes:
Rogers Park – this is one of my favorite access points to the lake. Rocky, pebble, and sandy beaches await. There are even a few places around here to go cliff diving if you know where to look! Unfortunately, high waters and flooding can often leave this access point closed.
Temple Lake Park – probably the most popular entry point to Lake Belton and easily one of the most beautiful. There's just something about coming up on the lake from FM 2305. It's simply breathtaking!
Live Oak Ridge Park – This is one of my two favorite places to camp in Bell County. This cozy-feeling park is pristinely maintained and it's a great area to swim. Perfect for get-togethers.
Stillhouse Hollow Lake doesn't have as many entry points as Lake Belton, but it's a much smaller lake.
Dana Peak Park – Earlier I said that Live Oak was one of my two favorite places to camp in Bell County. Well, this is the other one. With grassy, flat campground area, a peninsula that juts out far into the lake, forested trails in the surrounding area, and a mix of rocky and sandy beaches, this area is perfect for nature lovers.
Stillhouse Park – Similar in feel to Temple Lake Park, this spot is great for taking in the view, swimming, and picnicking. While you're there, be sure to check out Chalk Ridge Falls, a must-visit for any hiker and an often (regrettably) overlooked park with trails leading to a suspension bridge, cliffs, caves, and (yes, as the name would suggest) a waterfall.
Union Grove Park – adjacent from Dana Peak Park and not nearly as travelled. This area is also ripe for nature lovers and tends to have a more secluded feel for campers.
(For a complete list of entry points for Lake Belton and Stillhouse Hollow Lake visit: http://tpwd.texas.gov)
If you're not a lake guy or gal (hopefully you're still reading), Bell County still has a lot to offer spring breakers. Hopefully, you've kept strong with any New Year's resolutions, and if losing weight or getting into shape was one of them for you, then I have a fantastic, fun sport for you to get into: disc golf. Born on school grounds and first played by students in Vancouver, British Columbia in 1926, this game was originally called Tin Lid Golf; however, at the height of Frisbee fever in the 1970s is when disc golf, as we know it today, truly gained its stride.
The game, as the name would suggest, is like playing a game of golf—but with Frisbees. (It's important, however, that you don't get just any plain-old Frisbee. There are specific, specially designed discs that are smaller and much more durable than your average Frisbee, and these are what true disc-golfers play with.)
There are at least two courses in Temple, and there is a large following of people who play at each park: Temple Lions Park and South Temple Community Park. Each spot has its own unique advantages and disadvantages. For example, South Temple Community Park is quite forested, which makes it challenging to hit your intended target, but often makes you the better player; whereas Lions Park has a much more open feel to it—beware though, there is a pretty good chance you'll lose a disc or two here.
Again, this is a fun game for those trying to get in shape but hate the gym. Strap on your Fitbit because you'll be amazed at all the steps you'll get in.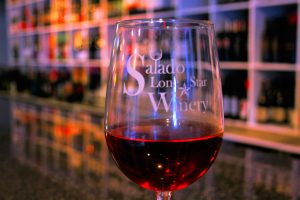 Lastly, if you're a person put off by perspiration or if going to the lake seems laughable – I may yet have an activity that's right up your alley. Have you ever strolled through Salado? This town looks like it's straight out of a movie with its picturesque shops and parks and sprinkled creeks. Seriously, it's Mayberry on steroids. Salado is perfect for weekend getaways and even more perfect when you have a full week to slowly stroll through each and every little treasured nuance that the town has to offer. There are parks, antique and specialty shops, art galleries, pottery studios, bookstores, restaurants, breweries, and wineries all oozing with charm and character.
So, just like the mom who's offered a million things for her kids to do – I don't want to hear anyone say, "I'm bored!" after reading this article. Seize the day! Seize the week! Seize your spring break, Bell County!